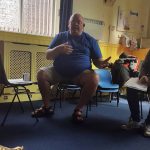 March 21, 2016 – Having been inspired by the Bible verse "… all of them trained and skilled in music for the Lord…" (2 Chronicles 25:7),  The Praise and Worship Team (PWT) of TFIC organized a workshop which was attended by 16 instrumentalists and vocalists of the team along with those who are aspiring to be members.
The said activity was divided into 3 parts where first, they listened to Eric Gradwell, a song writer/composer and the worship lead of the Whitley Baptist Church who inspired and shared his experience and expertise as the Speaker of the said workshop.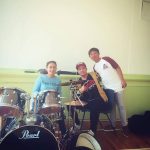 The second part was Tackling Issues that are usually encountered in a worship team by viewing the video clips of Paul Baloche, a well known international worship leader. The team did self and group assessments after each video clip.
The third part, the group split up according to their talents. They taught and shared to the new members and aspiring to be members how to play and sing "Blessed Be Your Name" which they later presented to the rest of the team at the end of the workshop.
---